Coming in December…no fairies, just all wolf!
More booksellers coming soon!
---
July 8, 2011, 4:01 am
Hottest Kiss is Up! Ian MacNeill needs your vote!!! 🙂
The Deadly Fae is up! Book 2 of The World of Fae. The Dark Fae, Book 1 is already available.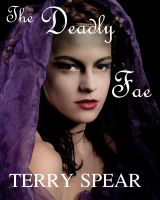 The Deadly Fae Ebook By Terry Spear
Published: July 07, 2011
Category: Fiction » Young adult or teen » Romance
Category: Fiction » Young adult or teen » Fantasy
Words: 51981
Lady Sessily is a dark fae, an assassin, and she intends to retire and take up some other occupation so she can have a normal life. Get a boyfriend. Visit the human world to hassle humans like many of her kind do. Attend fae kingdom parties, not as the mystery woman who is scoping out her next intended victim, but just to have fun. Until tall, dark, handsome, and deadly interrupts her plans.

Lady Sessily is on a mission to assassinate a fae lord who is the most evil kind of fae. But when she is thwarted, not once, but twice by another fae lord, she is ready to strangle him. And she'll do it for free.
Tall, dark, handsome and deadly Lord Fairhaven insists she do a job for him. Which she refuses. But the lord is not one to take no for an answer.
The crown prince of the cobra fae doesn't know what to think when he hires a master assassin who turns out to be a woman–not her father like he'd been led to believe. But can she eliminate one of the most powerful queens of any of the fae kingdoms without getting herself killed?
He soon rethinks his plan as he gets to know the woman he begins to think of as his angel assassin.
Coming to Amazon soon!
A great review for Heart of the Highland Wolf! Over the Edge Reviews…

HEART OF THE HIGHLAND WOLF had so many facets to it. The fact that Ian was poor and not the rich Laird added to this heart-rich story. The fact that he was disgruntled to have to rent his castle and property out nagged at this alpha males senses and sense-abilities. Ms. Spears did a beautiful job showing the closeness in the MacNeill clan. Every age showed how the whole clan…not just the laird ad his brothers…came together like one monumental family that knew they had to do what ever they need to to safe the family. In showing the difference in the MacNeill clan and Julia's clan which consisted of her, her father and grandfather and their deep love for each other also solidified my deep appreciation for this series.
My favorite part of HEART OF THE HIGHLAND WOLF is fact appreciating and loving ones family was the main theme that ran through this incredibly endearing story. Ms. Spears showed it does not matter what makes-up your family–big or small, conventional or non-conventional- you love and honor the people who care about you.
I appreciate the fact and hope you enjoy HEART OF THE HIGHLAND WEREWOLF where Ms. Spear's shares with readers a story that has well-drawn characters, a fascinating suspenseful story line that deftly meshed factual and fictional incidents with a fresh approach in Spear's erotic werewolf world.–Christine
Woohoo, it's Friday! I get off early today because of working 3 hours on the holiday, so it's going to be a WONDERFUL Friday!
Have a super day, and remember, pucker up for Ian MacNeill's kiss!!! 🙂
Any plans for the weekend?
I'll be working on Jaguar all weekend!
Terry
"Giving new meaning to the term alpha male."
http://www.terryspear.com
Ian needs your vote!!!
He's battling against a ton of heroes—and you can also win a chance at $25 toward ARe books when you vote!!!
Summer's Hottest Hero Contest – Vote Now!
Round 1 voting will end at 11:59 (GMT-6) on 07/06/2011
PRIZES:
FIRST PLACE Author Prize: A Home Page Static Ad for one month on AReCafe.com (Value $500.00). Top Shelf placement for 2 weeks in the Featured Books section on AllRomance.com and OmniLit.com (Value Priceless). $500 cash (USD paid via Paypal).
SECOND PLACE Author Prize: A Cover Story Video by Circle of Seven Productions and a complimentary Featured Video Spot on AReCafe.com. Value $400.00
THIRD PLACE Author Prize: A Sony Reader Pocket Edition. Value $180.00
ROUND 1-5 Voter Prizes: $25.00 in eBook Bucks
OFFICIAL RULES:
Only one vote per bracket per round is allowed. IP addresses will be screened in order to avoid duplicates.
No incentives may be offered or accepted in exchange for votes.
Voters must have an account with All Romance eBooks, LLC
Brackets will be assigned at the sole discretion of All Romance eBooks, LLC.
Read the "Fine Print" below for additional information.
Access to this page is limited because you are not logged in. Click here to log in to your account.
The Fine Print: The contest will run until 11:59 pm Central/US on July 31th. You must be 18 years of age to enter. Employees of All Romance eBooks, LLC will not be eligible for voter prizes. NO PURCHASE IS NECESSARY. The odds of advancing from one round to the next is 1:2. The odds of being the overall winner is 1:32. The winners within each bracket for each round will be the author with the most votes as of the close of voting. In the event of a tie, the author who received the winning number FIRST will advance. The voter winners for each round will be selected at random upon close of the round and notified via email. The $25.00 voter prizes will be automatically placed in the voter account. The 1st, 2nd, and 3rd prize winners will be notified via email. Shipping information will be required for the 3rd place prize. A paypal address will be required in order to receive the cash award for the 1st place prize. Instructions for redemption of remaining prizes will be sent via email. All terms and conditions of advertising on All Romance apply to any advertising prizes awarded. The 1st place prize is valued at $1000.00. The 2nd place prize is valued at $400.00. The 3rd place prize is valued at $180.00 plus tax and shipping. Prizes are being furnished by All Romance ebooks, LLC, DBA AllRomance.com, OmniLit.com, and AReCafe.com. 334 East Lake Road, Ste 286, Palm Harbor,
Florida 34684-2427.
I would have posted this earlier, but I couldn't find the link!!!
Off to work on The Deadly Fae and edits for SEAL!
Hope you are staying cool! The AC man never showed up. 😦
Terry, the hot
Forget about Ian being hot! LOL
"Giving new meaning to the term alpha male."